Drums&Co.ch provides all instruments workshops throughout the school year  
These workshops are for any person  who plays an instrument or who sings, wishing to meet other musicians in order to learn how to play together in a group, without worrying about age or level issues.
Drums&Co.ch students, outside musicians and singers will be led by a music teacher who is also a certified professional coach.
All students, all participants will benefit from everyone's performance, while progressing at their own pace.
The idea is to be in a concrete situation like in usual band.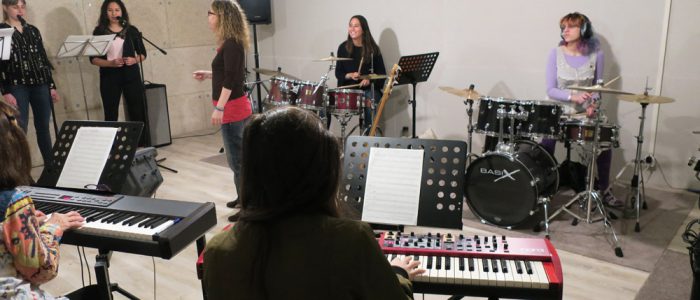 In a harmonious environment, with predefined goals, the coach supports and puts each participant at ease.
She allows each and everyone to identify their own strengths, overcome difficulties, find their own ressources and make their own talents emerge.
The idea is to mobilize oneself in order to give the best and improve performance.
Firstly, the coach suggests simple structure songs, with few chords.
Sheet music and lyrics are provided.
According to the group , the coach can form smaller groups, for examle, singer can be asked to work on harmonies in a room while the drummer, bass player and guitar player work as a rhythm section. The coach goes from one group to the other and then brings them together.
The songs that the coach suggests allow as well to creat an interaction between back-up singers and the lead singer.
The simple structure songs that are chosen are prone to improvisational moments. The person improvising can express him/herself freely, while being guided and supported by the coach.
The coach uses phonetic rhythmic solfege to work on the pieces, tricky passages, riffs, bass lines. Therefore, the playing becomes more precise, the band plays together, like one and the same.
2017 - 2018
| | | | |
| --- | --- | --- | --- |
|  Sessions | Tuesday 7 - 8:30 pm | Thursday 7:30 - 9 pm | Thursday 7 - 8:30 pm |
| 1 | September 26 2017 | September 28 2017 | |
| 2 | October 17 2017 | October 179 2017 | |
| 3 | November 7 2017 | November 9 2017 | |
| 4 | November 28 2017 | November 30 2017 | |
| 5 | December 19 2017 | December 21 2017 | |
| 6 | January 16 2018 | January 18 2018 | |
| 7 | February 27 2018 | March 1 2018 | February 9 2018 |
| 8 | March 20 2018 | March 22 2018 | March 2 2018 |
| 9 | April 24 2018 | April 26 2018 | March 23 2018 |
| 10 | May 15 2018 | May 17 2018 | April 20 2018 |
| 11 | June 5 2018 | June 7 2018 | May 11 2018 |
| 12 | June 26 2018 | June 28 2018 | June 1 2018 |
2018 - 2019
| | | | |
| --- | --- | --- | --- |
| | Kids Workshops | Workshops | Workshops |
|  Sessions | Wednesday 3:00 - 4:00 pm | Thursday 7:30 -  9:00 pm | Friday 6:30 - 8:00 pm |
| 1 | September 12 2018 | September 13 2018 | September 7 2018 |
| 2 | September 26 2018 | September 27 2018 | September 21 2018 |
| 3 | October 10 2018 | October 11 2018 | October 5 2018 |
| 4 | October 31 2018 | November 1 2018 | October 19 2018 |
| 5 | November 14 2018 | November 15 2018 | November 9 2018 |
| 6 | November 28 2018 | November 28 2018 | November 23 2018 |
| 7 | December 12 2018 | December 13 2018 | December 7 2018 |
| 8 | January 9 2019 | January 10 2019 | December 21 2018 |
| 9 | January 23 2019 | January 24 2019 | January 18 2019 |
| 10 | February 6 2019 | February 7 2019 | February 1 2019 |
| 11 | February 27 2019 | February 28 2019 | February 15 2019 |
| 12 | March 13 2019 | March 14 2019 | March 8 2019 |
| 13 | March 27 2019 | March 28 2019 | March 22 2019 |
| 14 | April 10 2019 | April 11 2019 | April 5 2019 |
| 15 | May 8 2019 | May 9 2019 | May 3 2019 |
| 16 | May 22 2019 | May 23 2019 | May 17 2019 |
| 17 | June 12 2019 | June 13 2019 | May 31 2019 |
| 18 | June 26 2019 | June 27 2019 | June 14 2019 |