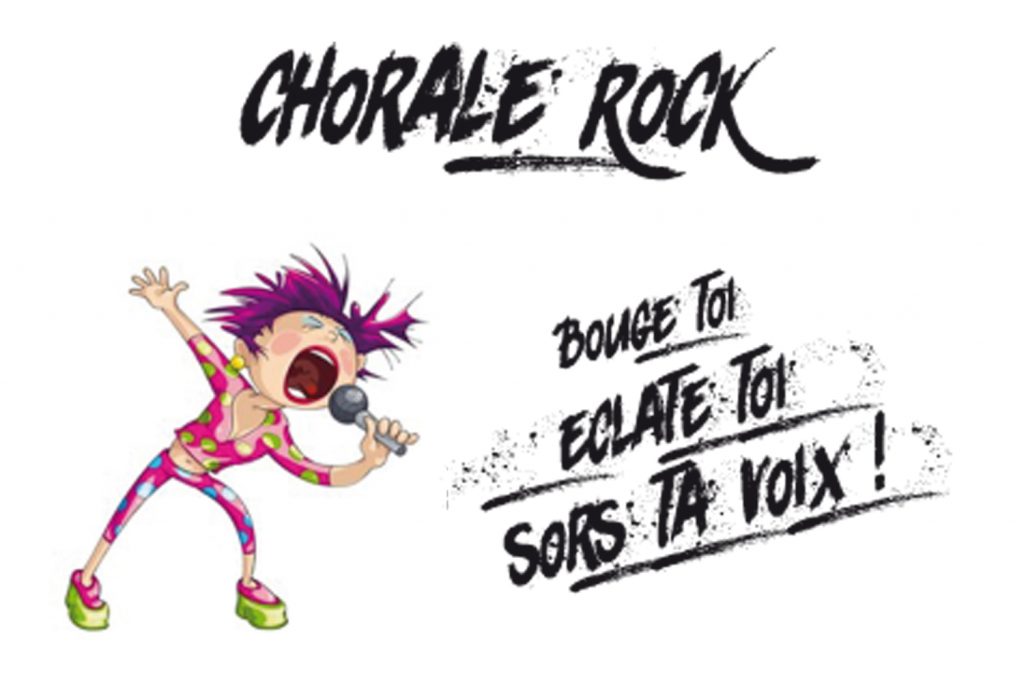 The rock choir brings together singers from all backgrounds and levels around classic and current rock songs in English and French: Rolling Stones, Kiss, Green Day, Trust, Phone etc …
The energy that emanates from this "rebel" repertoire, even "protest", gives us the opportunity to get out our voice, to move our daily life and to burst!
Some singers are singing instrument parts (eg the famous riff of "Deep Purple's" Smoke on the Water "). Once a month, the choir is accompanied by musicians (bass, drums). Depending on the progress of the group, concerts are organized.
Claudia Urio, pianist, singer and coach, leads the choir throughout the year.
You are all welcome. Register now !
The rock choir starts in the first week of September and runs throughout the school year.
2018 – 2019
| | |
| --- | --- |
| | Workshops Choir |
|  Sessions | Thursday 7:30 –  9:00 pm |
| 1 | September 6 2018 |
| 2 | September 20 2018 |
| 3 | October 4 2018 |
| 4 | October 18 2018 |
| 5 | November 8 2018 |
| 6 | November 22 2018 |
| 7 | December 6 2018 |
| 8 | December 20 2018 |
| 9 | January 17 2019 |
| 10 | January 31 2019 |
| 11 | February 14 2019 |
| 12 | March 7 2019 |
| 13 | March 21 2019 |
| 14 | April 4 2019 |
| 15 | May 2 2019 |
| 16 | May 16 2019 |
| 17 | June 13 2019 |
| 18 | June 27 2019 |