Guitar lessons at Drums&Co.ch in Geneva are designed for students of all levels in a variety of musical styles.
Are you a beginner on the guitar?
Want to play folk guitar or electric?
You stumbled on online courses that wind you guitar learning in two weeks?
The teacher will help you discover your instrument and teach you how to tune your guitar. He can advise you in the choice of your first guitar if you do not have one yet. With him, you will play your first basic chords like major chords, minor chords. You will be able to experiment with your first chords and learn how to decipher a guitar tablature to play your first songs.
For the more advanced students, you will be able to discuss with the teacher recognized guitar methods to perfect you in rock, blues, funk.
The practice of the guitar opens at least three fields of knowledge: the knowledge specific to the instrument, knowledge specific to perception (including auditory but not only) and those specific to music.
Once initiated by the instrumental practice, these three fields of knowledge enrich themselves, interact and allow, over time, to control the instrument in the manner of a tool, in the sense of an extension of the hand.
This learning never ends and begins at the beginning of the instrumental practice, whatever your level. Beginner or advanced, these three fields are solicited and combine.
Beginner, you will have to take knowledge of the instrument (to go around the owner), the sounds that it produces and their organization on the neck, sensations felt at the end of the fingers and what that represents on the theoretical level : knowing how to play a minor third may be useful, but knowing why she is a minor may be even more useful.
More advanced, you can broaden your knowledge by addressing a particular area, for example a definite musical style (rock, funk, jazz …) or take a closer look at the harmony, or work the ear, identify cadences, chords, or work and develop a particular fingering, transplant a solo, etc.
Whatever your level, you will encounter a technical vocabulary whose advantage is to say just what is needed about basic concepts such as third, fifth, tone (s), sharp, tablature etc. And for the more advanced, the concepts such as cadence (II-V-I, turnaround), harmonization (of a range, of a mode), construction of chords, reversal (tetrads), superstructure, etc.
Our courses aim to address and expand the different fields of knowledge of the guitarist through an instrumental practice intelligent, organized, friendly, based on sharing and the pleasure of playing but also on exercises for concrete goals and real progress.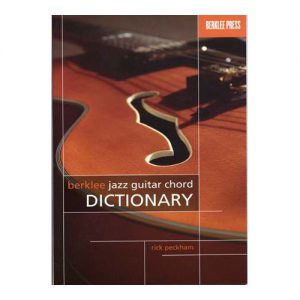 Berklee Jazz Guitar Chord Dictionary – Rick Peckham
Blues Guitar Technique – Michael Williams
Funk/R&B Guitar creatives solos grooves & sounds – Thaddeus Hogarth
Advanced Modern Rock Guitar Improvisation – Jon Finn
The Advancing Guitarist applying guitar concepts & techniques – Mick Goodrick